Group brings shine to N.Y. jewel
Same idea could work here, some say
Last Updated: Sept. 8, 2003
Last of three parts

Endangered Legacy


Photo/File
Central Park provides an 843-acre oasis in the heart of New York. A private, non-profit group, the Central Park Conservancy, is credited with turning around the park from its derelict state in the 1970s. Its partnership with the city has become a model for reclaiming neglected urban spaces.

Quotable

If (Frederick Law) Olmsted were alive today, I think he would be overwhelmed to see what we have done here.
- Doug Blonsky,
Central Park Conservancy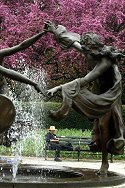 Photo/AP
A woman reads a book in the Conservatory Garden in New York's Central Park. A non-profit group raises over 85% of the park's $20 million operating budget, with the city supplying the rest.

About the Series

Most cities would kill to have even one park designed by Frederick Law Olmsted, the visionary founder of landscape architecture in America. Milwaukee has three: Lake, Washington and Riverside. But that legacy is threatened by disrepair and an uncertain funding base.


Sunday: Lake Park, like the rest of the county's 15,000-acre park system, has had deferred maintenance for two decades and now faces an aggressive budget-cutting plan approved by County Executive Scott Walker that could make it even harder to keep up.


Monday: Washington Park remains a beautiful refuge despite problems - a crumbling band shell smeared with graffiti, a lagoon clogged with trash and a misperception that the park is a crime haven. Across town, Riverside Park looks very little like an Olmsted park anymore, but it still embodies his notion of the role of green space in a city.


Tuesday: Some parks advocates believe the Milwaukee County system is dying a slow death because of an overdependence on the property tax. But there is now talk of finding other ways to fund the parks, including a conservancy approach that revived New York's Central Park.
More on Olmsted

For more information about Frederick Law Olmsted and his parks:


"A Clearing in the Distance: Frederick Law Olmsted and America in the Nineteenth Century," by Witold Rybczynski (Scribner, 1999).


"Frederick Law Olmsted: Designing the American Landscape," by Charles E. Beveridge and Paul Rocheleau (Universe Publishing, 1998).


"A History Walk Through Lake Park" and "Lake Park Tree Walk," brochures for self-guided tours, published by Lake Park Friends, P.O. Box 71197, Milwaukee 53211; (414) 962-1680.


National Association for Olmsted Parks, 84 Parkside Ave., Buffalo, N.Y. 14214, (866) 666-6905.


Olmsted Research Guide Online; database of records from the Frederick Law Olmsted National Historic Site in Brookline, Mass., and Olmsted papers from the Library of Congress.


Weequahic Park Association, P.O. Box 2248, Newark, N.J. 07114; (973) 643-7850; support group that has rescued an Olmsted park in Newark.


Central Park Conservancy, 14 E. 60th St., New York, N.Y. 10022; (212) 310-6600; non-profit group that manages and raises money for Central Park.


Public Policy Forum, 633 W. Wisconsin Ave., Milwaukee 53203; (414) 276-8240;
By the 1970s, Manhattan's Central Park was a derelict shadow of its once green and glorious self. Vistas that had been carefully sculpted by Frederick Law Olmsted and the English-born architect Calvert Vaux were overgrown. Meadows were trampled to oblivion. Historic buildings were graffiti-scarred and crumbling. Ponds were choked with trash. Crime was rampant.
Visit Central Park today, in the year of its 150th birthday, and you will find a refurbished jewel. Its greenswards restored, its buildings and statues buffed to a fare-thee-well, its trees lovingly pruned, the 843-acre park is throbbing with life.
Credit for the turnaround goes to the Central Park Conservancy, a private, non-profit group that manages the park for the City of New York, providing services from lawn care and playground maintenance to building restoration and erosion control.
Founded in 1980, the conservancy raises money from individuals and foundations to provide more than 85% of the park's $20 million annual operating budget; the city supplies the rest. The partnership, by making park support a fashionable cause, has become a national model for reclaiming neglected urban open spaces. And, its advocates say, it's a model that could work very well in Milwaukee, which has three Olmsted parks suffering the same financial stresses that imperil parks throughout the county and the nation.
"We are everybody's backyard," says Doug Blonsky, administrator and chief operating officer of the Central Park Conservancy. "If Olmsted were alive today, I think he would be overwhelmed to see what we have done here. We are not fanatics about going back to exactly what Olmsted and Vaux created. But Olmsted's democratic vision is very much alive here."
Across the East River . . .
Another Olmsted creation, Prospect Park in Brooklyn, has its own version of the conservancy - the Prospect Park Alliance. It, too, has brought a deteriorating jewel back to health while increasing park use by 300%, according to the alliance's director, Tupper Thomas. Even teenagers are put to work in projects ranging from outreach to woodlands restoration.
There are as many as 100 such public/private partnerships managing Olmsted parks around the nation, from Pittsburgh and Newark, N.J., to Cleveland and Seattle, according to Jerry Baum, executive director of the National Association for Olmsted Parks.
"It's confirmation of the soundness and farsightedness of the plans (Olmsted) made more than 100 years ago," Baum says. "The more of these parks you save, the more aware people are of the treasures Olmsted left behind."
"People are beginning to see Olmsted parks as a historic preservation issue, and that has helped build a broader constituency for saving them," says Chris Walker, a senior research associate at the Urban Institute, a think tank in Washington, D.C. "An Olmsted park becomes a metaphor for every park. Olmsted knew that parks were the civic glue around which a neighborhood functions."
Prospect Park's Thomas says Milwaukee would do well to examine the work of groups such as hers, perhaps forming a conservancy around three or four parks. The Olmsted Parks Conservancy in Louisville, Ky., for example, has raised $10 million in its first 10 years for improvements to 18 parks and parkways.
Advocates say that a broad umbrella can help fight fears that conservancies invite a two-tier park system, the favored sites gaining the support of well-heeled benefactors while parks in poorer neighborhoods go begging.
Thomas and Central Park's Blonsky say that far from leading to a system of haves vs. have-nots, the success of their conservancies has sparked so many similar groups in the five boroughs that all New York City parks have benefited. Even in the city's current fiscal crisis, Thomas notes, Mayor Michael Bloomberg has restored money for parks. "He sees it as a quality of life issue," she says.
Walker open to idea
Milwaukee County Executive Scott Walker says he is receptive to the idea of parks conservancies. "I would welcome it with both arms wide," he says. "Our bottom line is preserving the natural assets of our parks, and public/private partnerships look like a good way to do that, since their primary interest is the parks themselves."
Walker notes that there are already some precursors for such organizations locally, including Lake Park Friends, Friends of Boerner Botanical Gardens and similar groups raising money for the county-run Villa Terrace and Charles Allis decorative arts museums. The Urban Ecology Center, which runs environmental programs at Riverside Park, is another example.
"These have been pretty good partnerships," Walker says. "Larger versions of these groups could only help."
Some Milwaukee County park staffers worry, though, that among unionized park employees, fear of job losses might make it difficult to form conservancies here.
That was initially an issue in New York, but it has subsided, Thomas and Blonsky say, since conservancy employees, while non-union, are doing work that the city could not afford to do. Conservancy workers are paid wages comparable to those of their municipal counterparts.
Still, it's no breeze running a parks conservancy, advocates caution. "It can cushion a park against the ups and downs of (government) funding," Blonsky says. "But it's still a tough challenge. You're always looking for money. When the city has its downs, it's a down time for private fund raising, too."
Even so, he says, that's better than benign neglect. "Are we just going to sit around and watch a park decay and wait for government to step in?" In these straitened times, Blonsky says, that could be a long wait.
From the Sept. 9, 2003 editions of the Milwaukee Journal Sentinel