Winter Sleepers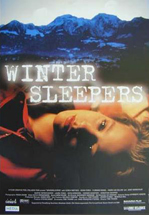 Winter Sleepers
, written and directed by Tom Tykwer (
Run Lola Run
) is an excellent independent film, that, like a well called square dance, lands the right people in the right place by its end. (Well... there
are
a few sacrifices.)
Tykwer deftly balances tragedies about the death of innocence and expectations with gloriously funny moments. This balance plays throughout the narrative and is wonderfully supported by the film's infrastructure. For instance, the editor employs universally familiar shapes to metaphorically segue scenes; and the set designer takes a bow
and
the predictability out of one scene (between a bickering dysfunctional couple) when the jug like shapes of two red lava lamps are strategically placed
just
over the red double D cups of the most sexually charged character; while the couple are once again picking at an old wound, the audience is mercifully pulled out of it in the sheer fun of the set designer's take on the real nature of their relationship.
In the end we find the many fleshed out characters deserve each other for one reason or another and all fears that this has some reference to
Close Encounters
has more to do with Hollywood industrial lambasting than it does with good German Art film making. The Director of Photography is also wonderfully talented, making the mountainous German country-side at Christmas-time more magical than any Baby Boomer's snow globe dream.
Subtitles are not at all difficult. See it. You won't regret it.
Dianne Schlies
Albuquerque, NM