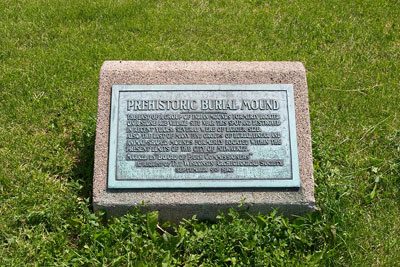 The Lake Park Mound is a single conical mound about two feet high and forty feet in diameter, located in the northwest corner of the park and visible from Lake Drive. The mound dates to the Woodland culture, probably Middle Woodland, but is unexcavated so it is impossible to determine an exact date of origin. A shovel probe of the area in 1979-1981 revealed that the mound's integrity is intact, but it would still be difficult to determine if the mound was from the Middle Woodland (300 BC - AD 400) or Late Woodland (AD 400 -1000) period. It is the only mound remaining of a group of conical mounds that once existed in the Lake Park area, and it is the last known mound remaining within the Milwaukee city limits. Other mounds (including a larger one) were razed during construction of Lake Park and the surrounding area.
In the nomination of Lake Park to the National Register of Historic Designed Landscapes in 1993, the current importance of the mound was detailed. "Today, Lake Park Mound draws visitors, but it is particularly a focal point for American Indians in the city. A number of Indians see the mound as an important spiritual place, and hold ceremonies there regularly. One group, for example, holds a sunrise service at the mound every year on the Sunday of the Indian Summer festival at the city's festival grounds. A large number of people gather at the mound at this and other occasions to conduct services, spread tobacco, and offer prayers."
The significance of Lake Park Mound was also outlined in the nomination form:
1) Its location overlooking Lake Michigan rather than a river or wetland is unusual. Comparison of this site to other mounds could add significantly to our understanding of the nature and function of these mounds.
2) It is unusual to find an undisturbed mound, and the area north of the mound is also undisturbed. It is unusual to find undisturbed mounds in such excellent condition.
3) Study of this mound and its associated habitation site can lead to a resolution of several important problems in Woodland research. In particular, Lake Park Mound could be used to examine the relationship between mounds and habitation areas. It is difficult to tie mounds to specific habitation sites, but the proximity of the debris found by Benchly and James (1981) suggests that the mound and the habitation site may be related.
4) The mound today plays an important role in the Milwaukee American Indian community, and should be recognized. The mound is used as a link to the past, and its spiritual value has increased over the years.
5) Lake Park Mound is the last remaining mound in the City of Milwaukee - all others have been destroyed.