Nature was his canvas
Olmsted thought of parks as sweet relief for urban masses
Last Updated: Sept. 6, 2003
Frederick Law who?

Endangered Legacy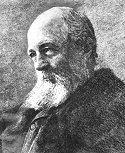 Photo/File
Frederick Law Olmsted

Frederick Law Olmsted


Born: 1822 in Hartford, Conn.


Legacy: Founder of American landscape architecture


Work: Left his imprint on about 600 parks and open spaces throughout the United States, including Milwaukee, Chicago, the U.S. Capitol grounds and the Stanford University campus.


Philosophy: Believed parks should serve as outdoor living rooms for people of all social classes, ages and backgrounds.


Died: 1903
More on Olmsted

For more information about Frederick Law Olmsted and his parks:


"A Clearing in the Distance: Frederick Law Olmsted and America in the Nineteenth Century," by Witold Rybczynski (Scribner, 1999).


"Frederick Law Olmsted: Designing the American Landscape," by Charles E. Beveridge and Paul Rocheleau (Universe Publishing, 1998).


"A History Walk Through Lake Park" and "Lake Park Tree Walk," brochures for self-guided tours, published by Lake Park Friends, P.O. Box 71197, Milwaukee 53211; (414) 962-1680.


National Association for Olmsted Parks, 84 Parkside Ave., Buffalo, N.Y. 14214, (866) 666-6905.


Olmsted Research Guide Online; database of records from the Frederick Law Olmsted National Historic Site in Brookline, Mass., and Olmsted papers from the Library of Congress.


Weequahic Park Association, P.O. Box 2248, Newark, N.J. 07114; (973) 643-7850; support group that has rescued an Olmsted park in Newark.


Central Park Conservancy, 14 E. 60th St., New York, N.Y. 10022; (212) 310-6600; non-profit group that manages and raises money for Central Park.


Public Policy Forum, 633 W. Wisconsin Ave., Milwaukee 53203; (414) 276-8240;
If most Milwaukeeans have heard of Frederick Law Olmsted at all, it's probably in connection with his pivotal role in the design for Manhattan's Central Park, which is celebrating its 150th birthday this year.
But Olmsted (1822-1903), the founder of American landscape architecture, left his imprint on about 600 parks and open spaces throughout the United States, including three parks in Milwaukee: Lake, Washington and Riverside.
His other commissions ranged from Prospect Park in Brooklyn, N.Y., to parks in Chicago, Boston, Detroit, Montreal and Louisville, Ky., to the U.S. Capitol grounds, the Stanford University campus and Biltmore, the Vanderbilt estate in Asheville, N.C.
The forces that shaped this prolific visionary were as various as the American landscape. The son of a dry-goods merchant, Olmsted was born in Hartford, Conn. He was largely self-taught as a landscape designer, having admired the long hedgerows, canopied woodlands and green valleys he traversed in his walks across the English countryside in 1850.
By the time Olmsted was appointed superintendent of Central Park in 1857, he had led several lives: surveyor, gentleman farmer, merchant seaman and correspondent in the slave-holding South for New York newspapers. Later he became head of the U.S. Sanitary Commission, a Civil War-era precursor to the American Red Cross.
Those experiences, and the social strife he glimpsed in rapidly developing cities, helped frame Olmsted's views on landscape design in a context of social reform. Even in the 1840s and '50s, he was worried about the flight of the middle classes to the suburbs. Without better planning, he feared, the countryside would be lost and cities would lose their vitality.
He decried the late 19th-century movement to lock up vast scenic acreage for private use by the rich. Parks, he believed, should be outdoor living rooms for people of all social classes, ages and backgrounds - people, he wrote, "with a common purpose, not at all intellectual, competitive with none, each individual adding by his mere presence to the pleasure of all others, all helping to the greater happiness of each."
After regularly pushing himself to the point of exhaustion, Olmsted suffered bouts of what today might be diagnosed as depression. Not surprisingly, he saw parks as therapeutic, a healing balm against the stresses of city life.
"The enjoyment of scenery employs the mind without fatigue and yet exercises it, tranquilizes it and yet enlivens it," he wrote, "and thus, through the influence of the mind over the body, gives the effect of refreshing rest and reinvigoration of the whole system."
But an Olmsted park was not a random swath of wild nature in the middle of a city. It was a meticulous marriage of wooded groves, expansive greenswards, layered vistas, and active and passive recreation areas. All of it was interlaced with sinuous pathways and carriage roads.
Architecture in his parks was secondary, as typified by his approach to landscape design at the 1893 Columbian Exposition at the World's Fair in Chicago. Witold Rybczynski, author of a highly regarded biography of Olmsted, "A Clearing in the Distance," summed up that approach this way: The exposition's classically oriented architects, he said, "wanted to create order out of chaos. (Olmsted) wanted to accommodate order and chaos."
Olmsted had what a contemporary described as "long-headedness" - the ability to envision what a nascent landscape would look like in maturity decades later. And he had a painterly eye. In an 1893 tribute, the great Chicago architect and city builder Daniel Burnham said Olmsted "paints with lakes and wooded slopes; with lawns and banks and forest-covered hills; with mountain-sides and ocean views."
"There is a special quality and experience about an Olmsted park, even when the maintenance has been deferred," says Charles Beveridge, an Olmsted scholar at American University in Washington, D.C. "He knew how to create spaces that were both pleasant and restorative; he knew how to shape the land, to create circulation systems that continually opened up space as you moved through it . . ."
Another Olmsted admirer, Bill Tishler, says the pioneering landscape designer was one of the first to treat parks as a system "in which the whole was always more than the sum of its parts." Olmsted's parks were to be connected by boulevards such as Milwaukee's Newberry Blvd., which links Lake and Riverside parks.
"He saw parks as democratic instruments, as sources of emotional and spiritual renewal, and as natural art galleries," says Tishler, a semi-retired professor of landscape architecture at the University of Wisconsin-Madison. "He was so far ahead of his time."
To Tishler and others, saving these landscapes is as critical as preserving landmark buildings.
"It's our history, our culture," says Bill Grundmann, a landscape architecture professor at Iowa State University. "These parks show the evolution of communities. If you destroy that, you lose your sense of connection to the past."
From the Sept. 7, 2003 editions of the Milwaukee Journal Sentinel