She moved from Mouseketeer ears to the "Beach Party" movies to fame with a new generation for selling peanut butter and gently poking fun at her own image. And in the end, Annette Funicello faced the biggest test of her life -- a decades-long battle with multiple sclerosis -- with strength and courage, hoping her own experience could help others. The actress, singer and former Mouseketeer died Monday at age 70, The Walt Disney Company confirmed in a statement.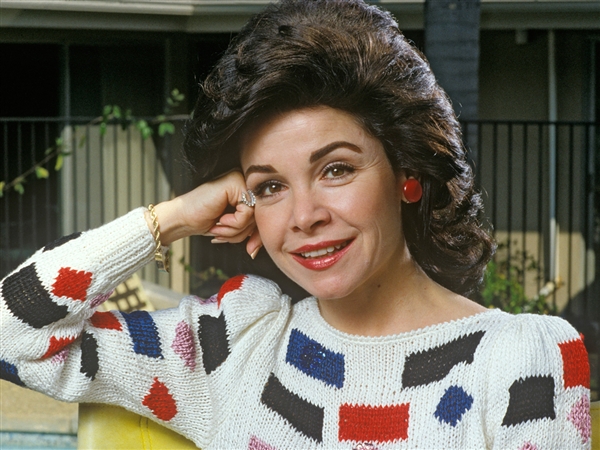 Getty Images
Funicello "died peacefully from complications due to multiple sclerosis, a disease she battled for over 25 years," the company said. The actress passed away at Mercy Southwest Hospital in Bakersfield, Calif.
"Annette was and always will be a cherished member of the Disney family, synonymous with the word Mouseketeer, and a true Disney legend," said Disney chairman and CEO Bob Iger in a statement. "She will forever hold a place in our hearts as one of Walt Disney's brightest stars, delighting an entire generation of baby boomers with her jubilant personality and endless talent.
"Annette was well known for being as beautiful inside as she was on the outside, and she faced her physical challenges with dignity, bravery and grace," Iger went on to say. "All of us at Disney join with family, friends and fans around the world in celebrating her extraordinary life."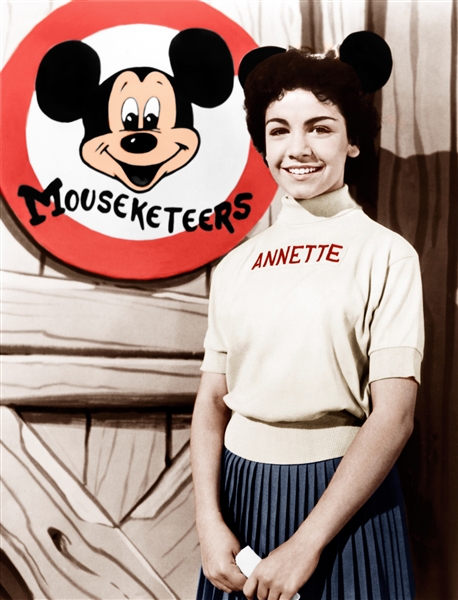 Everett Collection
Annette Funicello in an undated photo from her "Mickey Mouse Club" days.
"We are so sorry to lose Mother," said Funicello's children, Gina, Jacky and Jason Gilardi in a statement. "She is no longer suffering anymore and is now dancing in heaven. We love and will miss her terribly."
"We have lost one of America's sweethearts for generations upon generations," Funicello's friend and frequent co-star, Frankie Avalon, who starred with her in a half-dozen "Beach Party" movies in the 1960s, said in a statement. "I am fortunate enough to have been friends with Annette as well as appear in many films, TV and appearances with her. She will live on forever, I will miss her and the world will miss her."
Singer Paul Anka once dated Funicello and wrote some of her hits. "She was a lovely lady," he told TMZ. "She was a great star. It's a very, very sad ending."
Britney Spears, who first gained fame in the 1990s revival of "The Mickey Mouse Club," tweeted that she was "devastated" by the news, adding, "she was a role model for me during my days as a Mouseketeer."
Born in Utica, N.Y., Funicello moved to California at age 4 and was discovered by Walt Disney himself when she was just 13. She was cast in "The Mickey Mouse Club," which debuted in 1955, and quickly became the most popular Mouseketeer.
She would move on to careers in both singing and acting, often combining the two, as when she sang and acted in the "Beach Party" movie series with teen idol Avalon. Her attire in those films was a topic of discussion, as it was widely reported that Disney asked Funicello to cover her navel even while in swimwear, and she wrote in her autobiography that she did so. But photos and websites point out that her navel was indeed exposed in three of the "Beach Party" films.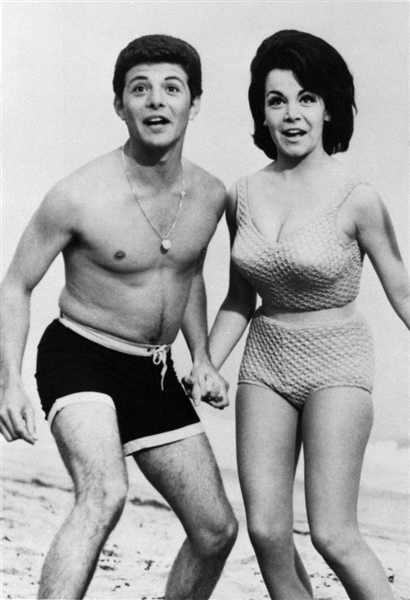 Annette Funicello starred with Frankie Avalon in a series of "Beach Party" movies in the 1960s.
Funicello had a series of pop hits in the 1950s and 1960s, including "Tall Paul" and "Pineapple Princess." Liner notes on one of her albums fondly dubbed her "Queen of the Beach."
She became one of the most enduring pop-culture images of that decade, starring in comic books and a series of Disney-approved Nancy Drew-style mystery books.
In 1979, Funicello starred in a series of popular commercials for Skippy peanut butter. She poked fun at the commercials in the 1987 movie "Back to the Beach," which reunited her with Avalon and parodied their beach-party era.
It was while working on "Back to the Beach" that Funicello first noticed signs of multiple sclerosis. She was officially diagnosed in 1992, and established the Annette Funicello Fund for Neurological Diseases in 1993.
Funicello was always open about the disease, saying, "I think you only have two choices in this kind of situation. Either you give in to it or you fight it. I intend to fight."
Fight she did, but even the perkiest of Mouseketeers could not fight off the ravages of multiple sclerosis. In a 1992 People cover story, Funicello bluntly discussed the disease that made some people think she was drunk.
Funicello's later years saw her confined to a wheelchair, unable to speak, her hands and arms permanently curled. Her second husband, horse breeder Glen Holt, gave a lengthy interview to "W5," a Canadian news magazine television series, in which he discussed Funicello's condition.
In the program, Holt is seen caring for Funicello, whom he fondly calls "Annie," brushing her hair, moving her from bed to wheelchair and taking her to the doctor and for wheelchair rides in the sun.
"I talk to her," he said. "She understands me in her own type of way."
Holt said that Funicello's fame made her prey to a "parade of charlatans" with false cures, but that the couple did find some hope in a procedure that opened up the actress' blocked jugular veins. After the procedure, Holt said he could perceive slight changes in his wife's condition -- she became able to swallow on her own, blink on command, and appeared to be trying to respond to his questions.
He noted that Funicello would have wanted her experience to help others, saying she told him that "if we did find something that would help me, maybe we could help many, many other people."
Related content: